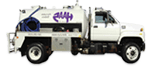 Haas Portable Toilets is Locally Owned and Operated
Haas Septic Service and Portable Toilets, Inc. offers a wide-range of septic and portable toilet services to Southeast Ohio and parts of West Virginia. Locally owned and operating for close to 30 years, we are able to provide knowledge and a personal touch for our customers unmatched by any other provider.
Our business has thrived through dedication, hard work, and extraordinary effort. When you call Haas Portable Toilets, we'll be the last call you make (740) 585-2030.
Haas Portable Toilets Provides a Variety of Sanitation Services
From our office near Lower Salem, Ohio, Haas Septic and Portable Toilets offers the highest quality service to the Mid-Ohio Valley since 1985. With our commitment to being the best, as evidenced by our well-trained employees, we can offer top service and quality products. We are the best choice when it comes to servicing septic tank systems, providing supplies, holding tanks, and portable toilet rentals in the area.
Our employees are trained extensively in all areas of the industry, including safety standards, and always offer clean and courteous service. Whether your needs are commercial or residential, we aim to please. When you require a portable toilet for a bathroom remodel, or multiple units for a large work site or special event, Haas Portable Toilets offers quality facilities.
Portable Toilets for Events in the Mid Ohio Valley
Haas Portable Toilets always offers clean, sanitary, and up-to-date portable toilets and wash stations. We offer portable toilet service for the largest occasion to the smallest event. We can provide holding tanks, handicap-accessible units, and sinks. Let us know about your event in Macksburg, OH, and we will customize a program to your satisfaction.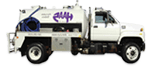 Septic Pumping and Cleaning by Haas Portable Toilets
Our septic cleaning services are top quality. Haas Portable Toilets services all types of septic systems and septic pumps. From septic maintenance to emergency septic pumping, we are here when needed. We also offer septic tank cleaning from the largest to the smallest servicing all types of septic tanks. Do not be left with no place to go – call Haas for the perfect solution and the best service!
We also offer aerator repair for all types of systems, and provide commercial and residential grease trap service.