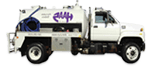 Haas Portable Toilets Offers Portable Toilet Rentals
Haas Portable Toilets offers portable toilet rentals for residential and commercial use in Beverly, OH, and the surrounding areas. Portable toilets are great for large events, construction sites, or to use at home during renovations. Our portable toilets are available for rent on a daily, weekly, or monthly schedule. All portable toilets arrive clean and ready for use. For a portable toilet in Beverly, OH, call Haas Portable Toilets today at (740) 585-2030 for an estimate.
Hand Washing Stations and Sinks for Events in Beverly, OH
When holding a large family event, or working on a construction site, guests will want access to hand washing stations to stay clean. Haas Portable Toilets provides portable, 22-gallon hand washing stations and sinks for events in Beverly, OH, and the surrounding areas. We provide hand soap and paper towels for added convenience. Keep guests and workers clean and satisfied by having accessible hand washing stations along with Haas Portable Toilet unit rentals. We install and maintain our own hand washing stations, so you never have to worry about going without.
Haas Portable Toilets Offers Holding Tanks for Construction Sites
Haas Portable Toilets offers holding tanks for our portable toilet rentals. Portable toilets can be a perfect for a construction site. However, if the rental is for a longer period of time, Haas Portable Toilets works to make maintenance easier. Speak with us today about our holding tank services.
Maintenance for Portable Toilet Rentals in Beverly, OH
Haas Portable Toilets' service does not stop at our delivery. We offer different service plans to suit your needs. The staff at Haas Portable Toilets understands the importance of having a clean portable toilet at a home or job site. Talk with our office staff to decide on the best maintenance plan for your portable toilet in Beverly, OH. Contact us today to rent a portable toilet or to schedule maintenance.