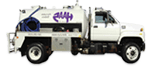 Haas Portable Toilets Offers Portable Toilet Rentals for All Occasions
Haas Portable Toilets offers portable toilet rentals for residential and commercial use. From family reunions, to traveling job sites, our portable toilet facilities keep guests and employees comfortable all day long. We also offer toilet trailers for construction sites, along with maintenance plans to keep the unit clean during the rental period. Call Haas Portable Toilets today at (740) 585-2030 to rent a portable toilet today.
Hand Washing Stations and Holding Tanks for Rentals in Woodsfield, OH
Haas Portable Toilets offers hand washing stations and holding tanks for our unit rentals. Keep guests and portable toilets fresh in Woodsfield, OH, by talking to our staff about additional sanitation services to accompany your unit. Haas Portable Toilets also offers flushable units for residential and commercial customers.
ADA-Handicap Accessible Portable Toilets for Events in Woodsfield, OH
Haas Portable Toilets provides ADA-handicap accessible units for all customers in Woodsfield, OH, upon request. These units meet the standards for proper size, and are fully equipped to meet the needs of all of our customers. We want all employees and guests to be comfortable during the event. Contact Haas Portable Toilets for more information about our ADA-handicap accessible units for Woodsfield-area customers.
Providing the Mid-Ohio Valley with Clean Portable Units for 30 Years
For 30 years, Haas Portable Toilets has provided the Mid-Ohio Valley with high-quality, fresh portable toilets for all types of events. We offer different maintenance plans to fit all of your needs. Whether the situation requires a unit for a day or six months, there is no need to worry if the portable toilet will be in clean condition. Customize a maintenance plan to meet your needs, whether it be three times a week or bi-weekly. Our staff is here to provide the Mid-Ohio Valley with sanitary units. Haas Portable Toilets proudly serves Woodsfield, OH, and the surrounding areas of the Mid-Ohio Valley.