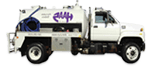 Haas Portable Toilets Offers Residential and Commercial Tank Pumping
Haas Portable Toilets offers both residential and commercial septic tank pumping to Little Hocking, OH, and surrounding Washington County areas. Septic pumping helps to keep septic systems in working order. Pumping removes some of the sludge and waste from the tank. Neglecting regular septic system maintenance can result in clogged drains, waste backup in drains, and damage to the septic tank or pipes, which could cause contamination if the waste leaks out into the ground.
Septic tanks should be pumped every three to five years, depending on the size and amount of people using it. If your septic tank needs pumping in Little Hocking, OH, call Haas Portable Toilets at (740) 585-2030 today for an estimate.
Septic Tank Cleaning in Little Hocking, OH
Septic tank cleaning removes all of the waste and sludge from the septic tank. Regular tank pumping reduces how often it needs cleaning. Haas Portable Toilets offers septic tank cleaning to residents of Little Hocking, OH, and the surrounding areas. Keep waste systems running smoothly by trusting our professionals to get the job done.
Residential and Commercial Grease Trap Pumping in Little Hocking, OH
Many homes and businesses install grease traps to keep grease, oils, hair, and other common drain-cloggers out of their pipes and sewage systems. If the grease trap needs to be pumped or cleaned in Little Hocking, OH, call on Haas Portable Toilets. Our team will have the grease trap cleaned in no time. Not sure when to pump the grease trap? Regular maintenance should occur every one to three months, depending on use. The standard rule is to have it pumped when the trap is one fourth of the way full, to limit the chance of clogs.
Haas Portable Toilets Offers Emergency Septic Tank Maintenance
Septic tank mishaps can happen at any time, day or night. When the septic tank needs an emergency pumping, cleaning, or other maintenance, contact Haas Portable Toilets right away. We will be out to your residential or commercial location in no time to fix the problem.