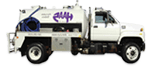 Portable Toilets Available for Parkersburg-Area Facilities
Operating a busy facility in the Parkersburg area means keeping an eye on restroom availability. No one likes to wait in a bathroom line when there is an event happening. Satisfy the sanitation needs of clients and employees alike with portable restroom units from the folks at Haas Portable Toilets in Lower Salem, OH. If hosting an outdoor event, the portable toilets from Haas can provide affordable relief for guests. Call today and ask our qualified staff how to get reliable portable toilets to your location in the Mid-Ohio Valley. Reach our friendly staff at (740) 585-2030 and start addressing portable toilet needs today.
Portable Hand Wash Stations for Events Near Vienna, WV
Sanitation is important to folks in the Mid-Ohio Valley, so when using one of our portable toilets, be sure to arrange for a portable hand wash station. Our portable hand wash stations eliminate germs and encourage healthier sanitation. If hosting an outdoor picnic or barbeque at your home or business, these portable hand wash stations allows guests to wash their hands before or after consuming food, playing with children or pets, and interacting with one another. Take sanitation seriously and call Haas Portable Toilets today to get a hand washing station for your next event. We proudly serve the following areas in Wood County:
Quality Septic System Services for the Williamstown, WV, Area
Home and business owners in the Williamstown, WV, area can find effective septic system maintenance from the Mid-Ohio Valley's top septic professionals at Haas Portable Toilets. Some homes do not have the sewage system necessary to keep the area sanitary, which is why choosing our septic maintenance services can keep home septic systems functioning well, and all at a great price. Regardless of where you live or operate a business in the Mid-Ohio Valley, Haas works hard for our customers. Business owners will enjoy our low prices for this very necessary part of workplace safety and sanitation. Give our staff a call today to find out more about septic system cleaning and pumping from Haas Portable Toilets.