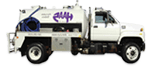 Portable Toilets for Businesses and Events in the Parkersburg Area
Parkersburg residents who own businesses or host events know the necessity for adequate restroom access for employees, clients, and other guests. Businesses and event planners in the Parkersburg area can call the professionals at Haas Portable Toilets to arrange portable restroom facilities for guests. Choosing Haas for your portable toilet needs provides the highest quality of products and services and the most helpful staff in the Mid-Ohio Valley. Give us a call today at (740) 585-2030 for more information and to schedule delivery of portable toilets for the event.
Septic System Maintenance for Parkersburg-Area Properties
Effective septic systems are necessary for many homes in the Parkersburg area, and if a residential property does not have access to public sewage, a septic system allows property owners to keep sanitary needs in order. Haas Portable Toilets can clean these systems for your home or business at the best prices in the Mid-Ohio Valley region, and we do not leave until we do the job to your satisfaction. Since 1985, we have provided quality septic services to Parkersburg-area homes and businesses and our clientele can speak to our high standards of excellence. Contact us today to find out more about our septic services.
Portable Sanitation Stations for Events in Parkersburg
While guests at a business or event need adequate access to restrooms, they also require adequate access to sanitation. Haas Portable Toilets also provides portable hand washing stations for events in the Parkersburg area. Our staff can provide as many as required for any sized event to make sure guests understand your commitment to hygiene and good sanitation practices. Haas has more than 30 years of portable sanitation experience that Parkersburg business owners appreciate. Find out the difference we can make for your next event today by contacting Haas Portable Toilets in Lower Salem, OH.