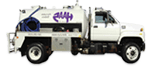 Turn to Haas Portable Toilets for Excellent Service in the Area
Haas Portable Toilets is a portable toilet and septic service provider residents in McConnelsville, OH, can trust in Southeast Ohio. Our crew offers the best service in the area, and we are proud to have a great reputation in the portable toilet and septic tank industry for over 30 years. Turn to Haas Portable Toilets for reliable portable toilet rentals and maintenance for your home, an event, or a workplace. We also offer professional septic system services, such as cleaning and maintenance. Call Haas Portable Toilets for portable toilet rentals and septic system service in McConnelsville, OH, and surrounding area at (740) 585-2030.
Portable Toilet Rentals and Affordable Delivery
Haas Portable Toilets offers portable toilet rentals to commercial and residential customers in McConnelsville, OH, and the surrounding areas. We have daily, weekly, and monthly rentals available to accommodate all customers' needs. Our crew provides affordable delivery to any location within 50 miles from our office for a $10 flat fee. For added cleanliness, our rentals also come with an optional 22-gallon hand washing station included with soap and hand towels. Also ask us about installing a holding tank for long-term portable toilet rentals located at worksites or homes.
We Provide Clean and Safe Portable Toilets For Everyone to Use
The highly trained employees of Haas Portable Toilets understand the latest industry safety and sanitation standards to make sure our portable toilets are safe for everyone to use. For portable toilets for your home, event, or workplace, we provide clean and up-to-date facilities, including ADA-compliant units, wash stations, and more.
Experienced and Knowledgeable Septic Service for McConnelsville, OH
Haas Portable Toilets also offers top quality septic system services to McConnelsville, OH. Our team has experience with all types of septic systems and septic pumps. We are here for cleaning, emergency pumping, maintenance, and 24/7 service. Whether you have a small or large septic system, Haas Portable Toilets has the best solutions.