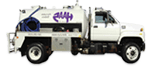 Haas Portable Toilets Pumps Accumulated Solids from Septic Systems
Solids are a part of any residential or commercial septic system. While the topic is not pleasant to think about, pumping these solids out of a septic system is important. Haas Portable Toilets provides septic pumping as one of our vital septic maintenance services in Marietta, OH, and the surrounding region. The septic system experts at Haas Portable Toilets will pump your tank correctly, make sure the system is running at is best, and dispose of the pumped waste. Give us a call at (740) 585-2030 when you require residential or commercial septic pumping.
Avoid Blockage with Effective Septic Pumping
A trained professional should pump the tank to avoid blockage when the accumulated solids reach a depth of one-third of the wastewater. When the solids accumulate and clog the tank, you might experience sewage backups in the toilets or slow draining of tubs and sinks in the home or business. The trained professionals at Haas Portable Toilets can determine if the system does need pumping.
Sometimes there is a clog on the property between the building and the septic tank, which might require some digging. The professionals at Haas are honest and open when septic systems require these types of services. So, being proactive with effective, routine septic pumping can save you and your landscape from unnecessary disruption.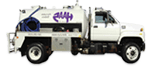 Septic System Problems Can Worsen Due to Delays
Whether septic pumping or another service, call Haas Portable Toilets. Septic issues will not get better by ignoring them. Each day that passes may only add to the expense when problems continue. Call our friendly and understanding representatives to schedule an appointment. We arrive on time and determine the scope of the septic or sanitation problem. Contact us today to start resolving septic problems completely.