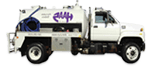 Providing Portable Toilet & Septic Services for Over 30 Years
Haas Portable Toilets offers dependable portable toilets and septic services in Belle Valley, OH. When you need a portable toilet for an event or for a worksite, you will be happy to know it comes from a locally owned and operated Ohio company. For septic system services for home or business, trust the experts at Haas Portable Toilets. Since we live and work in the area, we understand the needs of our customers in Noble County, including Belle Valley, OH; Caldwell, OH; and the surrounding areas. We are proud to serve residents in Belle Valley for over 30 years, and we continue to deliver the same dedication, hard work, and effort with every service we provide.
 Call Haas Portable Toilets at (740) 585-2030 for portable toilet rentals and septic system services in Belle Valley, OH. We offer hand washing stations, holding tanks, septic maintenance, and more.
Convenient and Sanitary Portable Toilet Services for Belle Valley, OH
Haas Portable Toilets provides our services to commercial and residential customers in Belle Valley, OH. We offer delivery services for a $10 flat fee for any location within 50 miles of our office in Macksburg, OH. Haas Portable Toilets offers daily, weekly, and monthly portable toilet rentals and regular scheduled maintenance. Contact us to install, repair or maintain a portable toilet in Belle Valley, OH, or the surrounding areas.
Commercial and Residential Hand Washing Stations & Holding Tanks
Haas also offers installation of holding tanks for residential and commercial use. We install and maintain our own holding tanks, so customers do not have to worry about who will take care of the tank. Haas Portable Toilet also offers 22-gallon portable dual hand washing stations with our portable unit rentals. The hand washing stations also include soap and hand towels to ensure your portable toilets are sanitary for everyone who uses them. Haas Portable Toilet delivers top-quality portable units to residential and commercial customers in Belle Valley, OH. With our experience, skill, and knowledge, our crew can provide our customers with the best portable toilet and septic system services in the industry.