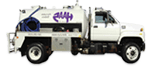 Haas Portable Toilets Offers Septic Tank Cleaning
Septic tank cleaning is an important part of maintenance that should not be ignored. Keeping your septic tank clean helps to limit clogs and larger problems later on. Having your septic tank pumped and cleaned every three to five years helps to keep it functioning properly, and lengthens the life of the septic tank. Call Haas Portable Toilets at (740) 585-2030 for septic tank cleaning and maintenance. We provide free estimates for all septic system services. Haas Portable Toilets proudly serves Marietta, OH; Beverly, OH; Barlow, OH; and the surrounding Washington County areas.
Residential and Commercial Grease Trap Pumping
Grease traps limit the amount of oils and other debris that can make their way into drains, ultimately clogging them and causing a load of problems. If your residential or commercial grease trap needs pumping in Washington County, call on Haas Portable Toilets. Our team will be out right away for emergency pumping, or you can schedule routine maintenance.
Portable Toilet Rentals for
Marietta, OH
Haas Portable Toilets offers portable toilet rentals to residents of Marietta, OH, and the surrounding areas. We offer ADA-Handicap Accessible toilets to accommodate all users, along with hand washing stations, flushable toilets, holding tanks, and more. All toilet rentals arrive clean and fresh, and we can set up maintenance to keep toilets clean during longer rentals. Whether you are looking for multiple portable toilets for a community event, or need a toilet trailer for a construction site in Marietta, OH, Haas Portable Toilets serves the region. We provide daily, weekly, or monthly plans to suit our customers' needs.
Haas Portable Toilets Serves Washington County, OH
Haas Portable Toilets provides septic maintenance, grease trap pumping, portable toilet rentals, and more to all of Washington County, OH, including:
Trust the staff at Haas Portable Toilets to make septic system maintenance or portable toilet rental experience a positive one. Contact us today to see what we can do for you in Washington County, OH.