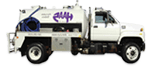 Reliable Portable Toilet and Septic Services for McConnelsville, OH
Haas Portable Toilets provides experienced septic system services and portable toilet rentals to McConnelsville, OH, and the surrounding areas of Morgan County. We are proud to be a locally owned and operated company based in Macksburg, OH, for over 30 years. Since we are a local company, we can provide exceptional work for portable toilet and septic system services. Residents in the area recommend us because we work hard, and commit to giving our customers the best in portable toilet and septic services. Call Haas Portable Toilets, for portable toilet, and septic system service in McConnelsville, OH, at (740) 585-2030.
Daily, Weekly, and Monthly Toilet Rentals for Events and Worksites
Portable toilets are practical for many residential and commercial uses in Morgan County, OH. When you have an event or construction project coming up, call us to set up portable toilet rental. Whether the event calls for one or many units, we can deliver to any location in the county for a $10 flat rate. Haas offers daily, weekly, and monthly portable toilet rentals. Our services include installation, cleaning and maintenance. Customers have the option of including a 22-gallon portable dual hand washing station with soap and hand towels with their rentals as well.
Holding Tank Installation for Residents of Stockport, OH
Residents in Stockport, OH, and the surrounding areas of Morgan County can depend on Haas Portable Toilets when they need high-quality holding tank installation and service. We install holding tanks for portable toilet rentals at homes, offices, and construction sites. Our well-trained employees strive to provide friendly, knowledgeable, and professional customer service. Contact us today for more information on our holding tank services.
Top Quality Septic Services for Homes and Businesses in Morgan County
Haas Portable Toilets provides experienced septic services for commercial and residential customers in Morgan County, OH. We have the right training to work on all types of septic systems and septic pumps. Our services include cleaning, maintenance and emergency pumping. Do not be left with no place to go – call Haas Portable Toilets for the perfect solution and the best service.