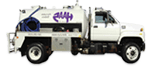 Portable Toilet Rentals by Haas Portable Toilets
Scheduling a large event in Cumberland, such as a wedding, building renovation, or a festival, can mean obtaining portable toilets for use by guests and visitors. Crowd size alone can equate to unmanageable toilet facilities without sufficient planning ahead of time. Haas Portable Toilets serves the region with portable toilet rentals. Call us at (740) 585-2030 to schedule a toilet rental in Cumberland, OH, or the surrounding areas.


Contact Haas Portable Toilets today to find out more and to schedule portable toilet rental or septic services. Haas is so much more than a septic maintenance company, offering hand washing stations and sanitation supplies that help encourage proper and healthy cleanliness for your large group, renovation, or other event in Cumberland, Ohio.
Service Areas for Septic Pumping by Haas Portable Toilets
Having a septic system that runs reliably can be achieved with regular pumping. This avoids sewer-related backups that can otherwise lead to unhealthy situations. Rely on Haas Portable Toilets for septic pumping in Cumberland, OH. We serve septic tank pumping needs throughout Guernsey County and beyond. Trust Haas Portable Toilets for a variety of sanitation services to maintain your septic system and keep it running smoothly and safely in these areas:
Helpful Hand Washing Stations Show Guests You Care
At large events, guest may only have a few minutes to tend to important hygiene matters. Whether hosting halftime at the local football game, scheduling a county fair in the late summer or fall, or simply having a clean place to stop and wash up, strategically arranging for a wash station tells guests you care about their cleanliness and good health. Along with renting helpful hand washing stations, Haas Portable Toilets can also provide your local Cumberland-area event with adequate sanitation supplies, so guests do not have to try to dry their hands with their clothing. Let your planning pay off with healthy dividends by arranging for hand washing locations from Haas Portable Toilets today!