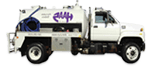 Haas Portable Toilets Provides Important Septic Maintenance
Haas Portable Toilets provides proactive septic maintenance for homeowners and business owners in the Marietta, OH area. We recommend servicing septic tanks every three to five years, depending on the size of tanks and the number of people in the home or business. The sludge layer in the tank can grow without septic maintenance being performed every three to five years. The result could be sludge overflowing into the drain field or sand mound, clogging it, and causing major problems. A system failure like that can cost homeowners or business owners thousands of dollars in cleanup and repair. Give us a call at (740) 585-2030 when you require septic maintenance.
There Are Multiple Benefits to Regular Septic Maintenance
There are many benefits to Haas Portable Toilets performing regular septic maintenance of the residential or commercial septic system. Maintenance every three to five years keeps it running on time, prevents sludge from building up, and extends the life of the septic tank. There are benefits that are not performance related, also. These include saving money on repairs and added peace of mind, protecting those in the house or commercial building from health risks, and preserving the environment.
Maintenance Can Extend the Life of Septic Systems
Many homeowners and business owners get septic maintenance to extend the life of their system. Routine maintenance by Haas Portable Toilets can catch minor problems before they become major ones. We utilize state-of-the-art equipment and tools to perform septic maintenance and keep systems working in top condition. Call Haas Portable Toilets to schedule routine maintenance. We will arrive on time at your location and perform complete septic maintenance services.
Contact us today for our thorough septic maintenance. We offer septic pumping, cleaning, and more to the Mid-Ohio Valley.