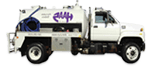 Haas Portable Toilets Offers Septic Tank Pumping and Cleaning
Haas Portable Toilets offers septic tank maintenance to Barlow, OH, and the surrounding areas. Keeping up with septic pumping and cleaning will help prolong the life of the septic tank, as well as keep your family safe from possible contamination. When septic tanks become too full, they can back up into drains or cause contamination in the ground. Septic tanks should be pumped every three to five years. If you are unsure of the last time the septic tank was maintained, call Haas Portable Toilets at (740) 585-2030 for an estimate on our septic system maintenance. We proudly serve Barlow, OH, and the surrounding areas.
Grease Trap Pumping for Barlow, OH, Residents
Grease traps keep oils, grease, and other drain-clogging objects from entering drains and the septic tank. If you believe that the grease trap is full, or it is not working properly, call on Haas Portable Toilets to pump residential or commercial grease traps in Barlow, OH. The standard rule is when the trap is one-fourth of the way full, it is time to schedule a cleaning, or every one to three months, depending on use.
Portable Toilet Rentals
in Barlow, OH
If you are holding a large event or need a portable toilet for a job site in Barlow, OH, Haas Portable Toilets is here with a few solutions. We provide portable toilet rentals, delivery, and maintenance. Haas Portable Toilets also offers hand washing stations, holding tanks, flushable units, and ADA-handicap accessible units for Barlow-area events and sites. We offer daily, weekly, and monthly rentals to suit the needs of our customers, along with personalized maintenance plans. Trust Haas Portable Toilets to meet your needs in both residential and commercial settings.
Haas Portable Toilets Offers Free Estimates
Whether the system requires septic pumping or cleaning, or a portable toilet rental for a family event, contact Haas Portable Toilets for a free estimate. We deliver our units within 50 miles of Macksburg, OH.