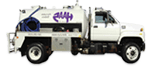 Hosting an Event in Pleasants County, WV? Ask About Portable Toilets
If you plan on hosting an event in the Pleasants County area, restroom space for guests is a necessity. For everything from concerts, to picnics, to barbecues, there may be hundreds, or even thousands of folks who need adequate restroom space. The best way to solve this is a call to Haas Portable Toilets. We pride ourselves on providing the best portable toilets in the region at the best prices around. We love serving the great people of the Mid-Ohio Valley by providing personal or commercial events with an important element that some planners overlook. Give Haas Portable Toilets a call today at (740) 585-2030 for more information. We proudly serve St. Marys, WV; Belmont, WV; and the surrounding areas in Pleasants County.
Professional Septic Tank Cleaning Services for Belmont, WV
Residents of Belmont, WV, and the Mid-Ohio Valley as a whole, can count on the folks at Haas Portable Toilets for reliable septic maintenance. Many homes and businesses in the area may not have access to public sewage, and utilize septic systems to take care of their waste removal needs. You deserve a quick and efficient business that has experience in cleaning septic tanks and preventing health issues from occurring due to full tanks. For over 30 years we have provided septic cleaning services to the Belmont area, and we look forward to continuing our great work for your home and business. Give us a call today for more information on our septic services.
Portable Hand Washing Stations for St. Marys-Area Businesses
Just like it is difficult to host an outdoor event with hot dogs but no ketchup, it is also difficult to host one in the St. Marys area with portable toilets, but no hand washing stations. Hand washing stations give sanitation options to all guests who look to maintain hygiene. Haas Portable Toilets can provide portable hand washing stations to go along with portable toilet rentals. Optional hand washing stations show clients and guests in the St. Marys-area the importance of hygienic practices. Contact us today to find out more about these wash stations and our other services for St. Marys-area businesses.