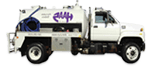 Haas Portable Toilets Services Septic Systems and Portable Units
Haas Portable Toilets in Macksburg, OH, services septic systems, portable toilets, holding tanks, and more. Here are some of the most frequently asked questions when it comes to portable toilets and septic systems. We find that informed customers are the best ones! If there is a question you do not see here, give us a call. Haas is here to provide the answer when it comes to specific septic and portable toilet needs.
Q: How long are 'porta potties' available for rent?
A: A construction or renovation project can last anywhere from a couple weeks to several months. Arrange for a rental for any length of time. A single-day rental is very common for such events as an outdoor reception, concert, yard sale, or party. The unit may actually be at the site for 48 hours, but we will only charge for the one-day rental.
Q: How often does a portable toilet need to be serviced?
A: If renting the unit for a one-day event, it will not need servicing. It will be delivered fully stocked and completely sanitized. With an extended rental contract, a weekly service call is included. When we perform this service, the unit is flushed out, wiped down, and restocked.
Q: What if I see a problem with guests using a portable toilet during a formal event, when they will be wearing special attire?
A: As the host of an elegant event, details matter. This includes the selection of unit, so rather than the standard "blue box," upgrade to a VIP trailer. It is much like a mobile bathroom, complete with vanity, mirror, sink, and lighting. These units can be very spacious. They are also sleek-looking, sturdy, and will blend easily into your elegant surroundings.
Q: What about the smell?
A: There is no escaping the fact that even the cleanest bathroom will occasionally emit foul odors. The benefit of a portable unit is that the fluids used in the commode pack a powerful combination. These compounds instantly break down the waste while emitting a delicate scent. When it comes to combating odors, the rental unit might be stronger than a public restroom.
Q: Can I get an estimate?
A: The best way to plan for a party or project is to consider all the costs. Call for an estimated fee for toilet rental or other sanitary service today!
Q: How do I tell if I have a septic system?
A: Nearly one-in-four homes in the United States have a septic system or cesspool.  If you live in a large city or your home is connected to "town sewer," you probably are not actively using a septic system. However, most rural areas and small towns use septic systems. Many states require that homeowners certify the proper functioning of their septic system before they can sell their house. Your local town hall can help research the answer to this question, if you do not know.
Q: Where is the opening to my septic tank?
A: This can be very important when it comes to cleaning and servicing your septic tank. The opening can be buried several feet underground. There is usually a map included with every home purchase that details where the previous owner placed the current system. If your purchase or the town records do not include a map, check with local septic contractors to see if they can help before digging begins.
Q: How often does a septic tank need to be cleaned?
A: The time to clean a septic tank may depend on a few factors, like how many people live in the home and how large the tank is. The general answer is every one to three years. Most homeowners have their septic tank cleaned every two years. This kind of regular and steady maintenance will help keep it trouble-free.
Q: Why should I bother cleaning my septic tank?
A: Consider all the wastewater used in your home, from toilets and drains, every time you wash clothes, use a dishwasher, or turn on a garbage disposal. General cooking and cleaning can cause buckets of dirty waste, which all accumulates in the tank. This can lessen the capacity of what your tank holds and may increase your water bill. Taking time to pump out and clean away all that sludge will allow it to be disposed of elsewhere.