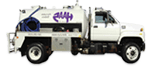 Portable Toilets for Vienna, WV, Businesses and Events
Vienna, WV, businesses know the importance of providing sanitary conditions and adequate restroom space for their employees and clients alike. When a situation calls for a number of portable toilets for an event, call the top portable restroom and sanitation service in the Mid-Ohio Valley. Haas Portable Toilets can provide a multitude of portable toilets to a business in the Vienna area for day-to-day business or special events. If hosting an outdoor gala, concert, or sporting event in the Mid-Ohio Valley, utilize the portable toilets from Haas and make sure clients and guests stay completely satisfied throughout the event. Give us a call today at (740) 585-2030 for more information on how to get portable toilets in Vienna.
Septic Tank Cleaning in the Vienna Area and the Mid-Ohio Valley
If you utilize a septic system in Vienna, or anywhere else in the Mid-Ohio Valley, speak with the experienced septic tank cleaners at Haas Portable Toilets. Since 1985, we have provided a wide array of septic services for home and business owners in the Vienna, WV, region, and we remain a trusted source for any issues with septic tanks and septic systems. We clean septic tanks for both residential and commercial properties throughout the region, and do so efficiently and effectively. Contact us today for more information on septic services from Haas Portable Toilets.
Portable Hand Washing Stations Available for Special Events
When renting portable toilets for special events, be sure to consider hand washing stations to go along with them. Haas Portable Toilets can also supply hand washing stations to ensure guests have the ability to utilize good sanitation practices. Sanitation is very important for many Vienna residents and especially required at various types of events. Keep hands clean and sanitary by renting portable toilets from Haas, along with portable hand wash stations and supplies.