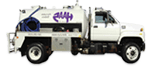 Affordable Portable Toilets for Businesses in Mineral Wells, WV
Having adequate restroom facilities is an important concern of business owners in and around Mineral Wells, WV. This can be crucial for the comfort of employees and customers alike. When businesses provide adequate restrooms, it makes life easier. If you plan to host an outdoor event or simply need more space for employees, contact Haas Portable Toilets. We are the Mid-Ohio Valley's top portable toilet provider. Our portable toilets allow easy access for businesses and provide easy relief for events. We also carry ADA-accessible units to meet the needs of all guests. give Haas Portable Toilets a call today at (740) 585-2030 for more information about our portable restrooms.
Professional Septic Tank Cleaning in the Mid-Ohio Valley
Septic tanks provide a necessary waste removal option for home and business owners in Mineral Wells, WV, and the entire Mid-Ohio Valley. Using a septic system can be an effective and affordable option for waste removal, but a septic tank is only as good as its cleaning service, and for the best septic cleaning staff in the region, speak with the professionals at Haas Portable Toilets. Our staff has over 30 years of experience in cleaning septic tanks for residents of West Virginia and Ohio, and gets the job done effectively, and at the best prices around. Contact our staff today to inquire about our septic cleaning rates and experience in the industry.
Portable Hand Washing for Mineral Wells-Area Events
Mineral Wells-area events need portable toilets, and they can also use portable hand washing stations to complete the cycle. Most people value hygiene very highly, particularly in public venues. The professionals at Haas Portable Toilets provide the hand washing stations necessary to help events move smoothly and sanitarily. Do not trust this responsibility to anyone else. Haas has decades of experience in providing the best systems and prices to Mid-Ohio Valley residents. Contact us today and ask about getting portable hand washing stations for Mineral Wells-area events.