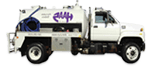 Septic Maintenance Helps Care for Families in Guernsey County, OH
Few things can ruin your day faster than septic system issues. A toilet that refuses to flush or drains that do not work properly are a hassle. A backed-up septic system can also be a hazard when it comes to the health of your family, guests, or employees. Take care of septic problems and contact Haas Portable Toilets right away. We can get septic systems flowing properly again in no time through septic pumping, cleaning, and many other services. If your Guernsey County home or business is experiencing septic issues, contact us today at (740) 585-2030.
Portable Toilet Rentals in Guernsey County, OH, for Parties & Events
When making plans for a large outdoor event, such as a festival or a wedding, portable toilets are on the top of the list. Restrooms for public venues must be clean and accessible to meet a variety of needs. If you supervise or coordinate special events, be sure to cover every aspect of guest comfort. This includes the personal and hygienic comfort of guests and staff. To make arrangements on the go, contact Haas Portable Toilets for unit rentals. We can provide everything from toilets, to hand washing stations and supplies, to ensure that the occasion is one to remember, for the right reasons.
Services Available from Haas Portable Toilets
Contact Haas Portable Toilets today to fulfill all your outdoor sanitation needs. Our services include, but are not limited to:
Service Areas for Haas Portable Toilets in Guernsey County, OH
For help with septic system services, or to rent portable toilets for a special event or renovation project, look no further than Haas Portable Toilets. We serve the septic needs of a vast service area stretching through Ohio and West Virginia, including these Guernsey County, OH areas:
Guernsey County, OH