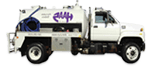 Septic System Services Keep Households & Workplaces Healthier
Few things are as crucial to the health of family members, guests, or employees in Byesville as a functioning septic system. The septic system disposes of hazardous waste; however, when the system does not work correctly this waste can back up. It can seep into houses or workplaces, causing discomfort and potential sickness. Schedule septic maintenance today with Haas Portable Toilets to keep Byesville, OH, households or workplaces healthy and clean. Our professionals can get septic systems working again quickly, through pumping, cleaning, and general maintenance. We can also offer insightful and proactive tips that will save time and money when caring for septic systems. Call us today at (740) 585-2030.
Haas Portable Toilets Serves the Byesville, OH, Area
When you require portable toilet rentals or septic services, Haas Portable Toilets covers your needs throughout the Byesville, OH, area. Our team provides customers throughout Guernsey County and beyond with exceptional service. We offer on-site drop-off of toilet rentals, hand washing stations, holding tanks, and sanitation supplies. Haas Portable Toilets also offers ADA-compliant units to accommodate all users. Our exceptional septic crew pumps and cleans tanks and systems to keep Byesville-area homes and businesses healthy and clean. We proudly serve the following Guernsey County areas:
Hand Washing Stations for Rent in Byesville, OH
Haas Portable Toilets helps to make good hygiene easier by providing 22-gallon hand washing stations for residential and commercial use. We know that in Byesville, OH, and surrounding Guernsey County areas, special events require adequate hand washing stations. Turn to the professional sanitation crews at Haas Portable Toilets. Hand washing can be a reliable way to minimize dirt and germs, which can be critical part of large, special outdoor events. Our wash stations come fully equipped with soap and towels, and run by a foot pedal for easy use. Placing hand washing stations at key locations means your guests can remain cleaner and healthier. Haas is the leading local source for rental of wash stations and other sanitation supplies to encourage cleanliness and event-day success. Contact us today!