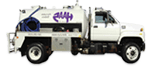 Haas Portable Toilets Offers Local Rentals in Cambridge, OH
Planning a large event, such as a wedding or a festival, means having portable toilets at the top of the to-do list. Having enough facilities on hand for the comfort and hygiene needs of a large crowd can make or break an event. Plan ahead proactively with portable toilet rentals from Haas Portable Toilets. Call us at (740) 585-2030 today to rent portable toilets in Cambridge, Ohio. 

Haas Portable Toilets is much more than a septic services company. Contact us today for all your needs—from hand washing stations, holding tanks, supplies, and more, we can provide everything needed to help make sure the occasion goes smoothly.
Stay Cleaner in Cambridge: Hand Washing Stations Meet the Need
Food-based festivals and outdoor sporting events in Cambridge, OH, all require that some measure of hand washing take place. To ensure your attendees stay clean and comfortable, arrange for hand washing stations at strategic locations. Our hand washing stations come fully loaded with soap and towels, keeping guests feeling clean and fresh. Haas Portable Toilets is the leading local source for rental of wash stations and other hygienic supplies for cleanliness and event-day success.
Septic Maintenance Service Areas for Haas Portable Toilets
Septic tanks and septic systems in general require routine maintenance to keep running smoothly. To avoid problems with backed up sewer drains or holding tanks, rely on Haas Portable Toilets for septic maintenance. From cleaning, to tank pumping, we have the experience residents look for in a septic system service. Our service area stretches throughout Guernsey County, Ohio and beyond. Haas serves the region with reliable septic pumping and maintenance, and has since for many years, covering these areas: