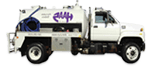 Portable Hand Washing Units Just Right to Stay Germ Free
Portable wash stations from Haas Portable Toilets really do go hand-in-hand with our portable toilet rentals. Whether one uses toilet units or not, clean hands are necessary in a variety of environments. Work and food situations especially need hygienic solutions and having hand-washing sinks motivate people to stay germ free. Call Haas Portable Toilets today to schedule delivery of one or more hand wash stations by calling (740) 585-2030.
Haas Portable Toilets Provides Fully Stocked Wash Stations
Residential and commercial locations have relied on Haas' convenience and knowledgeable sanitation solutions since 1985. From our headquarters in Macksburg, OH, Haas delivers quality hand wash stations for rent throughout the Mid-Ohio Valley. Our 22-gallon hand washing stations come fully equipped with soap and hand towels to keep all users feeling clean and fresh. The stations are foot pedal operated for easy use. Have a problem with your unit? Haas Portable Toilets maintains and repairs our own portable units, so there is no need to worry about finding someone to fix it.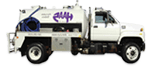 Choose Haas for Easy Sanitation Solutions in the Mid-Ohio Valley
Portable hand wash stations find greater use in areas of OH and WV today. Where portable units once met the needs of construction workers and travelers, their wider availability makes them an easy toilet solution for several types of residential and commercial events:
Home Renovations
Business Renovations
Moving – Home or Business
Festivals – Arts, Crafts, & Music
Teambuilding Exercises
Sporting Events
Fundraisers & Walks
Weddings & Receptions
Anniversary & Shower Parties
Pool Parties & Reunions
Anywhere you anticipate a crowd, especially one with multiple needs, make it a more enjoyable and accessible event with portable wash stations, toilets, holding tanks, and more from Haas Portable Toilets. Contact us today to see how to rent our portable units today. We proudly serve Parkersburg, WV; Marietta, OH; Macksburg, OH; and the surrounding areas of the Mid-Ohio Valley.