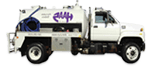 Portable Toilets for Outdoor Events and Special Occasions
Business owners in the Williamstown, WV, area, and throughout the Mid-Ohio Valley, often build clientele by hosting an outdoor event like a barbeque, concert, or picnic. Any outdoor event requires an adequate amount of restroom space. If a building or venue cannot provide that, ask Haas about portable toilet rentals to satisfy clients. For extra restroom stations at an event or daily commercial use, Haas Portable Toilets provides the best rates in the region. Give us a call today at (740) 585-2030 for more information about prices or to schedule delivery.
Septic Tank Cleaning Services in the Williamstown Area
Septic tanks serve a number of purposes to make life easier for Mid-Ohio Valley residents. Whether used to manage plumbing and sewage issues in rural areas or for the price flexibility it provides, talk to the friendly folks at Haas Portable Toilets for the septic cleaning services at the prices you will appreciate. Our qualified staff has served Williamstown and surrounding areas in West Virginia and Ohio for over 30 years with septic systems services for homes and businesses. Give us a call today for more information or to schedule septic tank cleaning services from Haas Portable Toilets.
Portable Hand Wash Stations and Sanitation Services in Williamstown, WV
Williamstown-area businesses that utilize portable toilets from Haas, are also mindful of the importance of sanitary and hygienic standards. This is why we offer portable hand washing stations along with our restroom units. These afford visitors access to the highest standards of hygiene. Our hand wash stations come fully stocked with soap and towels to meet all users' needs. Give Haas Portable Toilets a call today and ask our staff how we can provide sanitary services for your business or next event in the Mid-Ohio Valley.