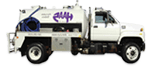 Haas Portable Toilets Offers Septic Tank Pumping and Cleaning
Haas Portable Toilets offers septic tank pumping and cleaning to Woodsfield, OH, and the surrounding areas of Monroe County. Septic pumping and cleaning are two very important ways of maintaining your septic tank. When sludge and waste builds up in the tank, it can cause backups, foul smells, and even contamination if the pipes or tank leaks or breaks. Haas Portable Toilets is a service provider for the following brands:
Nayadic®
Norweco®
Multi Flo
Oldham®
Call us today for septic tank maintenance for Monroe County, OH, at (740) 585-2030. We offer free estimates for all services.
Emergency Septic Tank and Grease Trap Pumping
Septic tank and grease trap backups or clogs can happen at any time. For emergency septic tank or grease trap pumping in Monroe County, call Haas Portable Toilets right away. We will be at your home or business in no time to fix the problem.
Residential and Commercial Portable Toilets for Monroe County, OH
Haas Portable Toilets offers portable toilet rentals for residential and commercial use in Monroe County, OH. Whether you are holding a large, outdoor family event, or need portable units for a construction site, Haas Portable Toilets has everything. From hand washing stations and flushable units, to holding tanks and construction toilet trailers, there is something to accommodate any event or job site. All units arrive clean and sanitized, and we offer a variety of maintenance plans. Haas Portable Toilets also offers ADA-handicap accessible units to Monroe County, OH, and the surrounding areas. Talk to our friendly office staff to find out how to rent your portable toilet today.
Haas Portable Toilets Offers Maintenance for Our Rentals
Haas Portable Toilets offers rentals daily, weekly, or monthly. Along with our rentals, we offer maintenance plans to keep the unit fresh while you have it. Haas Portable Toilets also does our own repairs on the units, so you never have to worry about finding someone else to fix a problem. We perform cleaning and restocking as often as necessary. Contact us today to learn more about our maintenance.