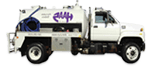 Portable Toilet and Septic Services You Can Trust in Caldwell, OH
Haas Portable Toilets is a local company you can trust for portable toilet and septic system services in Caldwell, OH, and the surrounding areas. Our knowledgeable staff understands what our customers need, and how to best serve them. Residents in Caldwell, OH, can trust our 30 years of experience to deliver the highest-quality portable toilet and septic services in the industry. Our dedication, hard work, and effort are unmatched in Southeast Ohio. Call Haas Portable Toilets for portable toilet and septic system service in Caldwell, OH, at (740) 585-2030.
Portable Toilet Delivery, Installation, and Outstanding Service
Portable toilets are useful for commercial and residential uses in Caldwell, OH. Contact Haas for daily, weekly, and monthly portable toilet rentals. We offer installation, repair, and service on all portable toilets. Talk with our staff to set up a maintenance plan to keep your toilet fully stocked and clean. Whether the portable unit is for a park, event, office, or construction site, Haas Portable Toilets has the facilities to make visitors and workers comfortable. For a $10 flat fee, Haas Portable Toilets will deliver portable toilets and hand washing stations to any location in the Caldwell area. We also provide holding tanks for worksites.
Our Highly Trained Team Provides Clean and Courteous Service
Haas Portable Toilets commits our time to providing the best portable toilet and septic system service to Caldwell, OH. Our team is highly trained in portable toilets, holding tanks, hand washing stations, and septic tank systems. We offer clean and courteous service with high safety standards. Haas aims to fulfill our customers' needs, whether it be one portable toilet for home use or multiple units for a festival or event. Give us the details and we will customize a program to your satisfaction.
Call Haas Portable Toilets for the Best Septic System Services Today
Haas Portable Toilets also offers high-quality septic system service. We service all types of septic and septic pumps in Caldwell, OH. Our services include cleaning, maintenance, and emergency septic pumping. Call us about cleaning for small to large septic tanks.