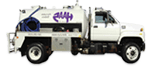 Portable Toilets & Septic Services for Residents in Noble County, OH
Haas Portable Toilets provides reliable portable toilet and septic services to Southeast Ohio, including Noble County. Residents will be happy to know we are a locally owned and operated company from Macksburg, OH. Because we are a local company, we can offer services and an understanding unlike any other. Haas Portable Toilets is happy to serve residents in Caldwell, OH, and the surrounding communities with dedication, hard work, and extraordinary effort. Call Haas Portable Toilets for portable toilet rentals and septic system service in Noble County, OH, at (740) 585-2030.
Haas Offers Portable Toilet & Hand Wash Station Delivery
Portable toilets can be used for both residential and commercial customers. When looking into our toilet rentals, check out our 22-gallon portable dual hand washing stations. Soap and hand towels are provided with the hand washing stations, and we repair and install our own stations. This way, all users can feel clean and fresh during the work day or event. There is a $10 flat delivery fee within 50 miles from our office. Haas Portable Toilets offers daily, weekly, and monthly portable toilet rentals, and provides 24/7 service.
Our Team Strives to Provide Knowledgeable and Skilled Work
With our dedication to deliver high quality service to Noble County, OH, we provide you with the best portable toilets and septic services in the industry. Our well-trained employees strive to provide friendly, knowledgeable, and professional customer service. Choose Haas Portable Toilets for portable toilets, holding tanks, hand washing stations, and septic maintenance.
Portable Toilets for Events and Worksites in Caldwell, OH
Our employees at Haas Portable Toilets are trained extensively in all areas of the industry, including safety standards, and always offer clean and courteous service. Whether your needs are commercial or residential, we aim to please. Haas offers portable toilets for home remodeling, or a toilet trailers for construction sites in Caldwell, OH. We always offer clean, sanitary, and up-to-date portable toilets, holding tanks, and other various supplies. Haas offers portable toilet service for the largest to the smallest event. Let us know about the event and we will customize a program to your satisfaction.
Septic System Cleaning and Maintenance for Homes and Businesses
Haas Portable Toilets services all types of septic systems and septic pumps. From maintenance to emergency pumping, we are here to meet your needs. We proudly serve the following areas in Noble County:
We also offer septic tank cleaning from the largest to the smallest servicing all types of septic tanks. Do not be left with no place to go – call Haas for the perfect solution and the best service!