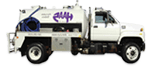 Professional Portable Toilet & Septic Services for Stockport, OH
Haas Portable Toilets is a trusted company in Southeast Ohio providing portable toilet and septic services. We are proud to serve the residents in Stockport, OH, and give them the excellent service and customer service they deserve. With over 30 years of experience in the industry, Haas Portable Toilets is able to provide portable toilet and septic services to the area.
Since we are a locally owned and operated company located in Macksburg,OH, we offer personalized service for every customer. Call Haas Portable Toilets for portable toilet and septic system service in Stockport, OH, at (740) 585-2030.
Reliable Portable Toilet Rentals for Commercial and Residential Use
Haas Portable Toilets provides our toilet rentals to commercial and residential customers in Stockport, OH. For a $10 flat fee, our crew can deliver a single or multiple portable toilet units to any location in the Stockport, OH, area. Haas Portable Toilets offers 22-gallon portable dual hand washing stations with soap and hand towels for added cleanliness. Our crew also installs holding tanks for rentals located at a long-term location such as a construction site or home. Call us for a daily, weekly, or monthly portable toilet rental today.
Our Staff are the Experts in the Portable Toilet and Septic Industry
Our team is highly trained, experienced and knowledgeable about the portable toilet and septic industry. Haas Portable Toilets is up-to-date on the latest safety standards. We strive to always provide friendly service and clean products. Whether you require a portable toilet during a bathroom remodel, or multiple units for a large work site or special event, we provide quality facilities.
We Offer Septic Cleaning for Small to Large Systems
Haas Portable Toilets services all types of septic systems and septic pumps. From maintenance to emergency pumping, we serve the region. We also offer septic tank cleaning from the largest to the smallest servicing all types of septic tanks. Haas Portable Toilets is a service provider for the following brands:
Do not be left with no place to go, call Haas for the perfect solution and the best service!