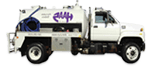 Haas Portable Toilets Provides Dependable and Complete Service
Haas Portable Toilets provides dependable and complete septic system services for residential and commercial customers in Marietta, OH, and 50 miles from our headquarters in Macksburg, OH. We service a vast array of septic systems and septic pumps. Our experienced professionals are here to perform septic maintenance and septic pumping when needed. Our septic tank specialists also provide septic tank cleaning from the smallest to the largest. Haas Portable Toilets has 24/7 emergency services, so give us a call at (740) 585-2030.
We Have Vast Septic System Experience and Knowledge
The employees at Haas Portable Toilets have years of experience and knowledge about septic systems. Our professionals can service residential and commercial septic systems, including pumping, lines, taps, drain cleaning, dye testing, sand mounds, and more. Our complete septic system services are affordable, honest, and dependable. We can get a septic system running in top condition as quickly as possible.
We Are Licensed Service Providers for: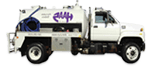 Be Proactive with Septic Maintenance – Call Haas Portable Toilets Today
Septic system problems can be frustrating and costly for homeowners, landlords, business owners, and managers. One of the keys in avoiding the frustration and cost of experiencing septic tank problems is to be proactive in maintenance and upkeep.
We can give helpful tips, including how often to do tank pumping and what not to flush down the drain. You will be glad you called the experienced professionals at Haas Portable Toilets. Contact us for our expert septic systems service.