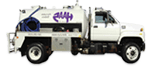 Haas Carries Portable Toilet Units for Personal Sanitation
Residential and commercial clients alike trust Haas Portable Toilets to provide portable toilet unit rentals when they need them most. As a leader in sanitation services, Haas Portable Toilets takes great pride in providing fellow Ohioans with toilets, hand washing stations, holding tanks, and more for hygiene on the go.

With reliable delivery and set up, our clean, sanitary, portable toilets can serve a variety of projects or events. Haas Portable Toilets serves the Macksburg, Ohio, area of the MOV. Call us at (740) 585-2030 today for professional delivery of portable units that meet the sanitation requirements for residential and commercial use.
A list of our services includes, but is not limited to:
Call Haas Portable Toilets Today for Cleaner Convenience
Services from Haas Portable Toilets include toilet rentals that are perfect for residential uses, such as home renovations, garden weddings, and other special home-based events. Consider the savings and wear-and-tear on home plumbing when you host a get-together. Units from Haas Portable Toilets make great sense providing ease, accessibility, and greater comfort to many guests when they visit your property.
Commercial services by Haas Portable Toilets truly keep a multitude of workers at greater ease knowing they do not have to travel off-site for toileting and washing up. When a large project, such as a construction job or other renovation, gets underway, be sure to make room in the plans for one or more groups of portable toilets, trailers, and washing stations. On-site washing stations can be critical to the health and safety of your workers, as well as the public at large!
Holding tanks for sanitation can be a necessary part of everyday life, no matter where you live or work. When the need exists for portable washing stations without an end date, secure rental of holding tanks from Haas Portable Toilets to manage sanitation needs. Holding tanks help control the gray water runoff from hand and wash stations. This allows for continued sanitation drainage with less impact on the surrounding environment.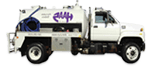 Septic Maintenance and Quality Pumping Services Available
Count on Haas Portable Toilets for quality septic services, too. Our septic teams know the various components of all types of septic systems. We work with residential and commercial septic systems in the MOV providing septic maintenance and pumping services.